Contact Info
(see footer below)
-=-=-=-=-=-=-
Dancing
Contra Dancing
Contra dancing is essentially Urban Barn Dancing for adults with a little more intricate movements and patterns being called. With the execption of not being for all age groups anything I said about Urban Barn Dancing on the Family Dancing page is also true for Contra Dancing.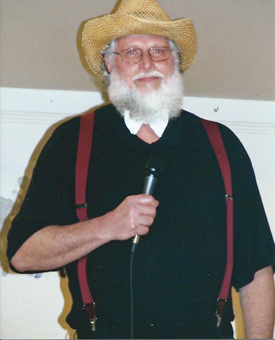 As with the Family Dances, I can lead Contra Dances for parties, reunions, secondary/post-secondary schools, community groups and any other special event that can benefit from giving its participants an opportunity to build community with each other through the fun of dance.
No experience or partner required
In standard urban barn dance style I introduce each dance by teaching it on the spot and then lead everyone through it as the caller. No experience is necessary just a willingness to have fun and to share it with others.
You are welcome to come with a partner, a friend, a group or on your own. Everybody dances with everybody so coming with someone you already know isn't necessary.
New to Contra dancing? This is a warm, welcoming, friendly and frolicsome opportunity to try it out and meet some new people.

Human community is defined by who we touch and who we warmly greet. We all want to be seen, heard and appreciated. Touch builds trust which opens our hearts as well as our relationships and builds a strong sense of belonging. All this occurs on the dance floor.
-=-=-=-=-=-=-=-=-=-=-=-=-=-=-=-=-=-=-=-=-=-=-=-=-=-=-
Caller Fee: $150 plus a band and sound system if needed
Negotiable for non-profit & community situations
-=-=-=-=-=-=-=-=-=-=-=-=-=-=-=-=-=-=-=-=-=-=-=-=-=-=-
I also call dances for Victoria Contra Dance and you can always find those dates, and the dates for their dances with other callers, on their web site along with other information about their dances. Introductory sessions at 7:00 p.m. and dancing from 7:30 to 10:00 p.m.,
Everyone welcome...at all dances...come by yourself or with a friend...no experience or partner required...everyone dances with everyone...all dances taught on the spot. Come and build community!
See Also:
Dancing Overview Family Dances Walker & Wheelchair Dancing
Contact Info
(see footer below)
-=-=-=-=-=-=-

Clip Art Created By
Grace Wilson, Williams Lake
& Stacie O'Hara, Reno NV
E-Mail Creative Edge Graphic